Matt Jory, owner and operator of Proven Moto, has over 15 years experience in the motorcycle racing industry. Originally from Sydney, Australia, he apprenticed as a mechanic and developed a love for motorcycle tuning. Working on and racing motorcycles was all that mattered in the early years. Motocross, four-stroke nationals and road racing helped Matt build a wide skill set and desire, which set him on the path to work for the fastest racers in the world.
In 2004, Matt was offered a potential position with a top U.S. road racing team. That small glimmer of hope was all that was needed to fuel the move Stateside. Realizing that times were looking tough after a couple of months in the U.S. and with the road race team position not developing, he answered a Cycle News ad for a position on the Troy Lee Designs Race Team. This opportunity opened the door for Matt to put his skills to the test. After a dream first year, working with the likes of Jeff Ward, Doug Henry & Troy Lee, Matt celebrated the Team's first AMA National Championship that he helped win for Jeff Ward.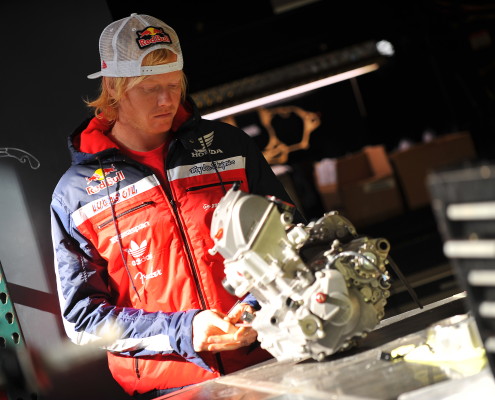 The Troy Lee Designs Lucas Oil Honda Race Team has been Matt's life and passion for the last 9 years, where he filled many positions from Mechanic to Team Manager and of recent years, Crew Chief and Head of Engine and Technical Development.
Achievements with the Troy Lee Designs Race Team include:
::AMA Championship Titles
::X-Games Gold Medals
::AMA Supercross and Motocross Wins and Podiums
::Countless Race Holeshots
Matt had the privilege of working with many great riders such as, Jeff Ward, Doug Henry, Troy Lee, Shaun Palmer, Chris Fillmore, Cassidy Anderson, Josh Hansen, Chris Gossellar, Chris Blose, Jimmy Albertson, Wil Hahn, Cole Seely, Christian Craig, Travis Baker, and Jessy Nelson.
Matt is grateful for the experience he gained working on the national racing circuit, but is now focused on this new chapter in his life; Proven Moto. He had an exciting past working with great pro racers and is now looking forward to an exciting future sharing his skills with great riders like you.